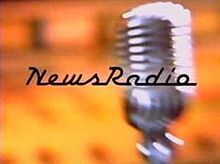 Welcome to the NewsRadio Wiki

[

]
NewsRadio is an American television situation comedy that aired on NBC from 1995 to 1999. The series was created by executive producer Paul Simms, and was filmed in front of a studio audience at CBS Studio Center and Sunset Gower Studios.
NewsRadio

[

]
The series is set at WNYX, a fictional AM news radio station in New York City populated by an eccentric station owner and staff. The show begins with the arrival of a new news director, level-headed Dave Nelson (Dave Foley). While Dave turns out to be less naive than his youthful appearance suggests, he never fully gains control of his co-workers.
The fast-paced scripts and ensemble cast combined physical humor and sight gags with smart dialogue and absurd storylines. Plots often involved satirical takes on historical events, news stories and pop culture references appealing to a sophisticated, college-educated target audience. The third- and fourth-season finales took the absurdity to the extreme, setting the characters in outer space and aboard the Titanic.
There are a total of 97 episodes. Reruns continued in syndication for several years before disappearing in most markets, but the show has aired on A&E Network, Nick at Nite, TBS network in the United States and TVtropolis and the Comedy Network in Canada. In the United States, the show occasionally airs as a filler on WGN America and runs regularly on Reelz Channel. The program became available in syndication to local stations again starting in July 2007 through The Program Exchange.[2]
Latest activity
[
]